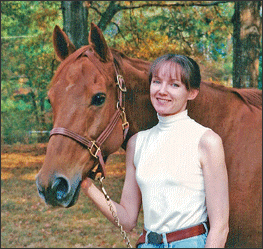 I graduated from vet school at the University of Queensland in 1985. I worked in mixed and equine practice in southeast Queensland and Victoria for several years before succumbing to the pull of further education.
From 1991 to 1993 I did a residency in equine medicine and surgery at the University of Sydney, along with a Master's degree in equine exercise physiology. I then moved to the US to do a residency in large animal internal medicine at North Carolina State University (NCSU) with the aim of sitting the internal medicine board exam and returning home as a specialist.
But life had other plans and I ended up staying in the US for 25 years. For the first 10 years after leaving NCSU I worked as a medical writer and editor, as I was not licensed to practice as a vet in the US at the time. By the end of that period I was itching to get my hands on animals again, so in 2004 I completed the odious AVMA foreign graduate accreditation program and returned to practice, this time with a holistic focus.
Below is a summary of my veterinary credentials and postgraduate training.
Click on the following links to see a list of my publications in veterinary medicine, animal health, and human medicine.
I moved back to Australia in September 2018, and back home to Queensland in May 2019. Currently, I'm dividing my time between veterinary practice, medical writing, and what I think of as a deep dive into the unknown as I follow my own eccentric interests into the gap between conventional science and holistic thought.
About this photo: Although it's now 20 years old, I love this photo of me and my friend Louis during an 'Indian summer' (balmy autumn day) in Chapel Hill, North Carolina. It reminds me of some of the best times I had, and the best friends I made, while living in the US.
*****
Credentials & Training
Here is a summary of my veterinary credentials and postgraduate training:
BVSc — University of Queensland, 1985. This degree, Bachelor of Veterinary Science, is the qualification awarded on completion of veterinary school. It allows graduates to practice as veterinarians, following registration with the state veterinary surgeons board.
MANZCVS (equine) — Member of the Australian and New Zealand College of Veterinary Scientists, Equine Chapter, inducted in 1991 (when it was called the Australian College of Veterinary Scientists, and the qualification was MACVSc). At that time, Membership was based on written and oral examinations once the applicant had at least 5 years of clinical experience in her chosen field, in my case equine medicine. Now, eligibility requires only 3 1/2 years of clinical experience.
Residency, Equine Medicine & Surgery — University of Sydney, 1991–1993. A residency is an intensive program of advanced training and study in a particular field or discipline. The emphasis of this clinical residency was equine internal medicine and equine sports medicine.
MVetClinStud — University of Sydney, 1993. This degree, Master of Veterinary Clinical Studies, is equivalent to MS (Master of Science). My Master's degree was conferred for original research in equine exercise physiology and publication of the thesis Clinical Exercise Testing of Racehorses.
Residency, Large Animal Internal Medicine — North Carolina State University (NCSU) College of Veterinary Medicine (Raleigh, NC, USA), 1993–1994. The emphasis of this clinical residency was equine colic, other medical emergencies, lameness, and neonatal (foal) medicine. I also completed modules in farm animal medicine and production.
AVMA Education Commission for Foreign Veterinary Graduates (ECFVG) Accreditation Program, 2003–2004. This 4-step program by the American Veterinary Medical Association (AVMA) validated my Australian credentials and clinical experience in veterinary medicine, a necessary requirement for veterinary licensure in the USA for veterinarians who graduated from vet schools outside of North America. During that program, I completed clinical modules in small animal medicine and surgery, anaesthesiology, radiology, gross pathology, clinical pathology, and an elective in canine physical rehabilitation at NCSU.
Registration & Memberships
I am currently registered with the Veterinary Surgeons Board of Queensland. Depending on where I was working at the time, I have also been registered/licensed to practice in Victoria, New South Wales, and in the US states of North Carolina, Washington, and Oregon.
I am a member of the following professional groups:
Equine Chapter of the Australian and New Zealand College of Veterinary Scientists (ANZCVS)
American Association of Equine Practitioners (AAEP)
College of Integrative Veterinary Therapies (CIVT)
Equine Clinicians Network (ECN), an online discussion group of equine veterinarians from all over the world
Complementary and Alternative Veterinary Medicine (CAVM), an online discussion group of holistic veterinarians in the US and various other countries. I am the new CAVM list manager and moderator.